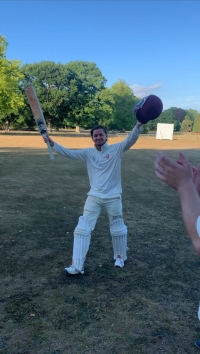 2nd August 2022
Sam Pougatch scored a scintillating 123 not out against Falconhurst as the Grannies successfully chased down 237.
See match report in due course for more details
5th June 2022:
The rearranged St.Paul's 'All Stars' game which was due to take place on Wednesday, 8th June has had to be cancelled by the school due to a rearranged event being held on that day.
17th May 2022: 3 of Pou's grandsons (from left, Felix Tritton, Sam Pougatch and Harry Felgate) played together at Pangbourne in brutal conditions as rain brought an early end to the Stragglers game
2nd May 2022: The Stragglers of Asia game on 15th May has had to be moved and is now being held at Pangbourne College, not as listed in the fixture card.
7th April 2022: Mark Pougatch has taken over from Bob Percival as Chairman of the Grannies, with the unanimous approval of the Committee
6th April 2022: After 15 years, Bob has decided to stand down as Chairman of the Grannies, with immediate effect. However, he will continue to play for the Grannies and this year is match manager of three matches, but he is also looking forward to playing for the Kent over 70s and spending even more time on the golf course!
1st March 2022: Match Managers, players and supporters please note that the fixture list for the 2022 season is now up on the website.
13th September 2021:
Scottie scored 95 for the Grannies while Big Jim made 63 for the FAS in their reply, the Grannies ending the match deserved winners by 40 runs.
See match report for full story
23rd August 2021:
The Grannies lost their inaugural match against the Philanderers at Exning Park, near Newmarket.
See match report for full details
27th July 2021:
Pat Sheridan led the way with 48 runs off only 21 balls including 4 massive sixes followed by two crucial catches and a wicket in a good all round performance by the Grannies against the Eton Ramblers.
See match report for full story